Subaru Share the Love Event – Going on now!
Share the Love Event Information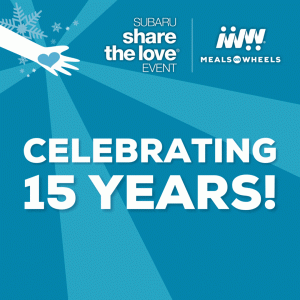 Meals on Wheels America and Subaru of America, Inc. are celebrating the 15th Anniversary of the Share the Love event. As part of a national partnership, Subaru of America will donate $250 to the purchaser's choice of participating charities – one of which is Meals on Wheels – for every
new vehicle purchased or leased from November 17, 2022, through January
3, 2023. Additionally, each Subaru retailer can select up to two "hometown charities" – local organizations in their specific community to support. "We are grateful to be part of this annual national event, where our local retailer and partner, Steve Moyer Subaru, recognizes Berks Encore as a
hometown charity and with their ongoing support is helping to make a difference in the lives of older adults," said LuAnn Oatman, Berks Encore president and CEO. In 2021, Berks Encore received $18,181 from Subaru of America and Steve Moyer Subaru. This amazing donation provided meals for 10 Berks County seniors for an entire year.
If you are in the market for a new vehicle, consider a Subaru. You can help Berks Encore by designating Meals on Wheels as your charity of choice when you purchase a Subaru during the Share the Love event, November 17, 2022, through January 3, 2023
201 S. Centre Ave., Leesport, PA
(610) 916-7000
Berks Encore needs volunteers to help deliver Meals on Wheels!
Ready to volunteer? For more information call Rita Phillips at 610-374-3195 ext. 225 or .  The life you change could be your own!